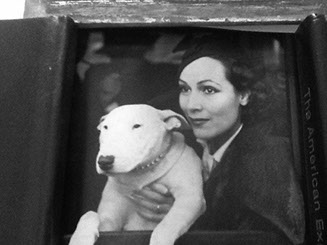 Dolores Del Rio with Ch Faultless of Blightyin 19361930's
Member Dr George Lewin owned the white dog Ch (Champion) Shure Thing, who was imported from England and became a valuable stud dog in California.
Ch Faultless of Blighty was originally owned by Mr. R. W. Mollison of Massachusetts. She won a Best in Show at Montgomery County in 1933 and also won handily in California. She was purchased by Dolores del Rio (the actress who later played Elvis' mom in Flaming Star) for an alleged "fabulous price."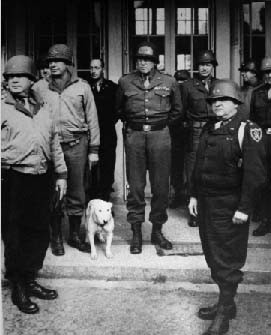 This photo was taken by a U.S. Army photographer in Europe after D-Day. It shows US Third Army Commander Lt. Gen. George S. Patton, Jr., surrounded by his staff. At his feet is "William the Conqueror" (usually called Willie).1940s
Sisters Alice and Eleanore Griffin bred Bull Terriers under the affix Little Willows. Alice Griffin served as GSBTC secretary for many years. In 1938 Eleanore Griffin won the screenplay Oscar (with Dore Schary) for "Boys Town."
Some Little Willows dogs hitched a ride to Hollywood. For example, Ch The Mayor of Little Willows stars alongside Cary Grant and Ethel Barrymore in None but the Lonely Heart (1944). "Nothin's too good for that dog, Ma. Part of myself he is," says Grant's character, Ernie Mott.
In 1945 Lt. Gen. George S. Patton, Jr., accepted a Gold Star membership from GSBTC while he was engaging the enemy in Europe. (In the 1969 film Patton, Abraxas Aran plays Willie, the devoted Bull Terrier of the general.)
After World War II
Gad Root served as club secretary and wrote
a monthly column in a dogWhile Bodger the Bull Terrier is referred to in the movie as a male, the dog playing the part is obviously a female.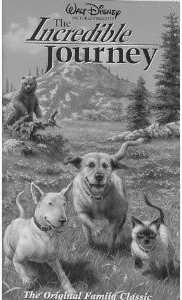 magazine from the late Forties into the Fifties.
The club welcomed new member Bill Koehler (of the Koehler method of dog training), who bred Bull Terriers under the affix Cadence. Koehler is famous as the trainer of the dogs in Walt Disney's "The Incredible Journey" (1963).
The kennel of Colonel James K. Marr included some imported dogs, notably the white dog Ch Nightrider's Rasteau, and the colored bitch Ch Kentigern Baronswood Firefly. These dogs won the GSBTC Specialty.
1950's
Dr. Percy R. Davis, former Superintendent of Education in Santa Monica, served as president of the club in 1954. The Davis family owned a famous brindle bitch, the English and American champion named Romany Remarkable. One of the perpetual trophies awarded by GSBTC is named for Herta, the wife of Dr. Davis.
The club published a handbook in 1954.
Mrs. Sybil Yearsley moved to Malibu, California from England and used the affix Tartary. Her biggest winner in California was Ch Tapdancer of Tartary, a white bitch that won Best in Show in 1954 at the Del Monte Kennel Club. Tapdancer was bred in England by Tom Horner, according to the Hon. David C. Merriam, a GSBTC member since 1957 and the unofficial club historian.
1960's and 1970's
Merriam bought his first Bull Terrier from Colonel James C. Marr. Raymond Oppenheimer CBE, a famous breeder in the UK, was a later mentor. Merriam served as club president in 1964 and 1965. In 1979 he served on the Board of Directors of the American Kennel Club, and in 2010 was made an honorary member of GSBTC. He served as editor for the BTCA publication A Centennial History 1897-1997 of the Bull Terrier Club of America (1997).
Merriam showed and bred Bull Terriers for many years using the affix Broadside. He imported some English dogs and purchased dogs imported by others, including:
Ch Goldfinger (white dog), a son of Ormandy Ben of Highthorpe
Ch Abraxas Antonius (white dog) by River Pirate out of Athenia, a litter brother to Ch Abraxas Audacity, 1972 winner of Best in Show at Crufts
Ch Papilio Pop Music (colored dog), a double grandson of River Pirate
Ch Souperlative Verdict of Broadside (white dog), a Jacqueminot son and litter brother to Jackadandy
In 1976 GSBTC published Today's Bull Terrier.
1980s and 1990's
For more than 35 years Bill (Roland) Edwards and Pat Edwards bred Bull Terriers under the Shavin affix. Bill also served as treasurer and president of GSBTC, among other positions. Pat produced the club newsetter for many years, and worked tirelessly behind the scenes to ensure that the club paperwork was in order. Bill Edwards is currently an AKC judge for the Terrier Group and pursuing judging credentials for more breeds.
The Kingsmere affix belongs to club members Terry Martin and Linda Lethin, breeders of Bull Terriers for 35 years. A white bitch, Ch Shavin's Queen of Hearts, ROM – jointly owned by Pat and Bill Edwards and Terry and Linda – won the Raydium Brigadier trophy in 1984, and won the BCTA National Specialty and Silverwood trophy in 1985. (Queen of Hearts is a daughter of Brobar Minder.)
The co-owners decided to repeat the breeding. This time they were rewarded with Ch Shavin's Encore of Kingsmere (known as Sidney). Sidney obtained his championship, his ROM, and was twice a Silverwood finalist.
Club members Carolyn and David Alexander (of the Brigadoon affix) have reason to be proud of their kennel. Ch Brigadoon Black Pepper, ROM, won Silverwood Best of Opposite Variety for 1990 through 1992.
A New Century
The Brigadoon kennel won Breeders Class Special Attraction at Silverwood in 2005. Ch Brigadoon Walk-a-Bout, ROM, won the Raydium Brigadier trophy and Lovell trophy in 2005. In 2009, Ch Brigadoon GoGo Boots, ROM, won Best of Opposite Variety at Silverwood.
A Tradition of Competition
The UK Bull Terrier Club notes that the Golden State trophy, presented to the Bull Terrier
Club by GSBTC, is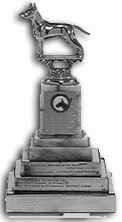 A trophy donated to the UK Bull Terrier Club by the Golden State Bull Terrier Club. awarded to the Best of Opposite Sex to the winner of the Regent trophy. This dog may, or may not, also be the runner-up.
Silverwood
GSBTC hosted this prestigious event in 1971, 1975, 1981, and 1987.
Challenge Cup
The Challenge Cup competition is a yearly tradition for Bull Terriers in California.
Perpetual Trophies
The history of the club and the names of remarkable Bull Terriers are etched on the perpetual trophies awarded every year. The trophies proudly acknowledge Bull Terriers from all over the world who contribute to the excellence of the breed. The breeders of these influential dogs are Golden State members from near and far.
You can see the club trophies on display at the Specialty in June with the Great Western Terrier Association.
Herta Davis Trophy
The Herta Davis trophy for Best of Variety (best colored) was first awarded in 1956.
When Dr. Percy R. Davis retired, he and his wife, Herta, moved to Fallbrook and acquired colored Bull Terriers. Their biggest winners were Ch Westmeath's Reliance (acquired from Florence Gogarty of New York) and Ch Romany Remarkable (imported from England).
Dr. Davis donated this trophy in memory of his late wife.
Tartary Dulac Redshank Trophy
Awarded to the colored Winners Bitch who becomes Best of Winners.
Tartary Dulac Redshank was a red bitch owned by Larry and Jackie McArthur of Vista or San Marcos. The dog may have been acquired from Mrs. Sybil Yearsley of Malibu, who used the affix Tartary. Whether the bitch finished her championship is unknown, but this trophy honors her memory.
The McArthurs bred Mini Bull Terriers and managed the Mini breed registry for many years.
Ch Deslynn's Breathless Beauty Trophy
Awarded to the white Best of Variety.
Candy Aron and Diane Foote (of the Deslynn affix) began limited breedings of Bull Terriers in 1977. They have bred more than 30 AKC champions and Register of Merit (ROM) champions.
Candy and Diane were mentored by Susan Meller. Charles and Susan Meller bred 50 champions at La Mirada Bull Terriers in Vista. They called themselves "the winners of the West." Two of the most famous dogs they imported from England were Ch Swainhouse Sportsman and Ch Commanche of Upbend.
In the UK Candy and Diane met Eric Stanley, a breeder using the Aricon affix. They imported dogs from him including Ch Aricon Eyefull, a Ch Aricon Eyespy son and winner of the Ormandy Jugs competition. Eyefull is the sire of Ch Deslynn's Breathless Beauty, winner of the 1992 BCTA National Specialty Best of Breed.
Eric Stanley bred several Bull Terriers – such as Ch Aricon Eyeshiner, Ch Aricon EyeShy, and Ch Catrana EyeOpener of Aricon, ROM – who appear on esteemed pedigrees and have greatly influenced the breed.
Since 1991 Candy Aron presides as the president of GSBTC. Diane Foote has served on the GSBTC board in various positions, and is currently an AKC judge for Bull Terriers and hounds.
Miller Memorial Trophy
Awarded to the white Winner's Bitch.
For more than 40 years Arthur and Joyce Miller bred Bull Terriers in the UK under the Brobar affix. Mike and Bobbi Kaslow (of thePicklefork affix) imported several dogs from the Millers, including Brobar Minder, who produced a Silverwood winner and influenced the breed in the club.
Arthur took pride in his bitch line and insisted that regardless of who fathered a litter the mother or dam was more important. It is fitting that the Millers' son Jimmy Henderson donated this award in his parents' memory
.
Ch Shavin's Encore of Kingsmere Trophy
Awarded to the White Winners Dog who received Best of Winners.
Ch Shavin's Encore of Kingsmere (Sidney) was six when he was sold to an Australian named Neil McCracken. Neil showed Sidney, and Sidney was a beloved family member until he passed away at a ripe old age.
Neil hand-crafted a trophy in Sidney's memory, to be awarded to the white Winners Dog at the GSBTC Specialty in June.
What's Next?
The Golden State Bull Terrier Club continues to have a strong presence in the breed. Our members have frequently served on the board for the Bull Terrier Club of America. The entries at our shows are the highest quality and can compete anywhere.
It will be exciting to see where the future leads!